When I make my vegetarian chili recipe, I make it big!
I figure, why spend all that time slaving over a hot stove for one meal, when I can add just a few more minutes to the total cooking time and have a freezer full of goodies, which will free me up on another day. Or in this case, another 8 or so days.
Because some days I just can't be assed to cook! But I can be assed to haul something delicious out of the freezer.
And I can always be assed to eat good food! And effortless good food – HELLO! (Although I will admit to experiencing a little freezer stress at times, as I root around my massive chest freezer looking for dinner! The poor bugger is always stuffed to the gills. When it kicks the bucket, I am going to replace it with an upright version, which I hope will be more manageable.)
My vegetarian chili recipe is so like the meaty version that you can fool your carnivore friends. I use textured vegetable protein (TVP) to replace the meat, so it has the familiar look and texture of chili con carne.
TVP is a dehydrated soya product, that soaks up the juices and flavour of the chili. Leave your vegetarian chili in the fridge for a day or so before freezing to allow the flavours to develop and it will be even more delicious.
You may notice in my vegetarian chili sans carne recipe the cheeky addition of a little dark chocolate. It gives the sauce a wonderful richness and depth of flavour, so don't leave it out ;)
If you don't want to get out your whopper pot and cook big, you can divide this recipe by 3 to make 6 – 8 servings.
But vegetarian chili is such wonderful comfort food, I reckon you should go large. It freezes brilliantly, and all you need to do is make an accompaniment like rice, pasta or potatoes.
Or keep it simple, and have a bowl of hot chili on its own. YUM!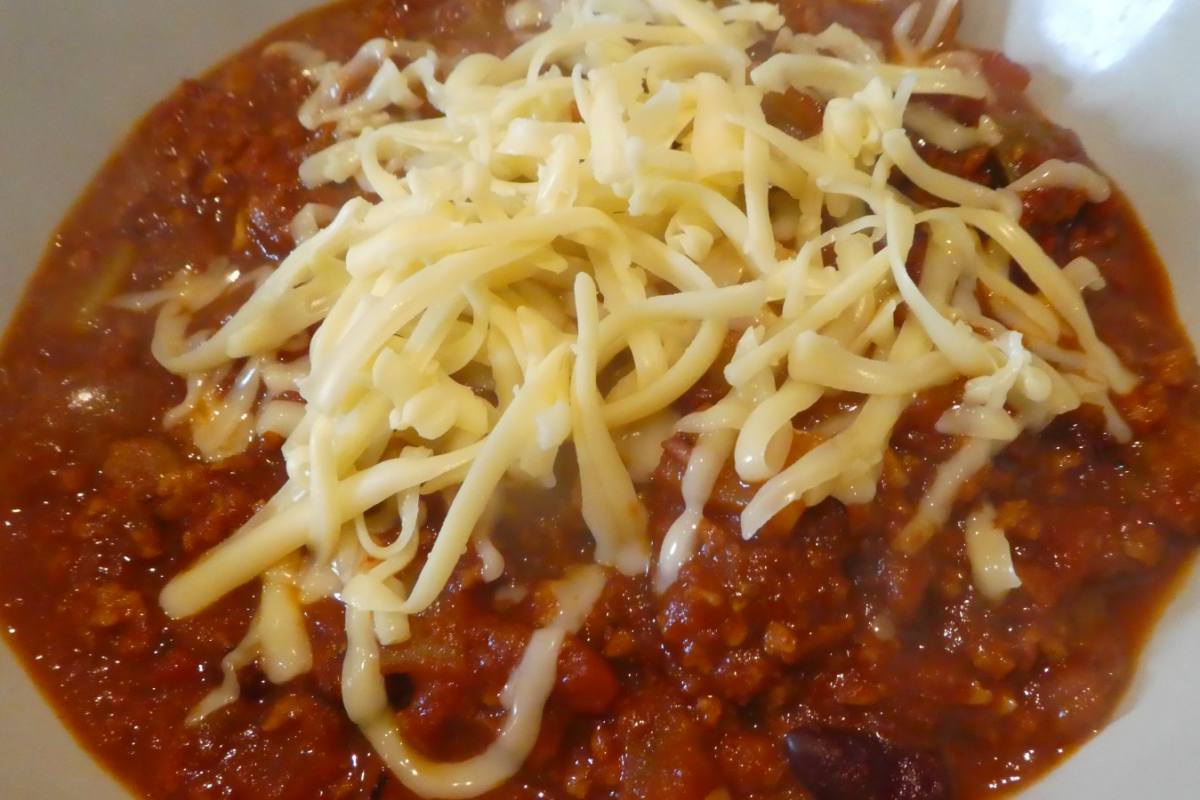 Print
Vegetarian Chili Sans Carne
---
Author:

Prep Time:

45 mins

Cook Time:

30 mins

Total Time:

1 hour 15 minutes

Category:

Vegan
Description
This recipe makes a giant pot of full flavoured chilli, so you'll have plenty to feed the freezer! Or divide the recipe by three to make 6-8 servings. The chilli is best made a few hours if not the day before serving, to allow the flavours to develop and the TVP to soak up the sauce. 
---
Ingredients
4 Tbsp olive oil
1 1/2 lbs / 680g onions, diced
1 1/2 lbs / 680g celery, diced
1 lb / 450g green peppers, diced
6 Tbsp mild chili powder*, or to taste
1 tsp dried oregano
3 x 800g cans chopped tomatoes
2 lbs / 900g cooked kidney, pinto or borlotti beans
7 oz / 200g plain TVP mince
6 fl oz / 180ml water
9 cloves garlic, chopped
3 Tbsp soya sauce
5 oz / 140g tomato puree/paste
1 oz / 25g dark chocolate
1-2 Tbsp sugar
salt and freshly ground black pepper
---
Instructions
Heat up the oil in a very large pot, add the onions, celery, and a little salt, and sweat them, covered, for 10 minutes.

Add the peppers, chili powder and oregano, and stir for a minute before adding the rest of the rest of the ingredients up to and including the soya sauce.

Allow to simmer for about 15 minutes, till the vegetables are just tender, stirring frequently to prevent sticking.

Add the tomato puree, dark chocolate, sugar and seasoning to taste. Simmer for a couple more minutes, then serve with rice, chips, baked potatoes, pasta, or simply some tasty bread.
Notes
* Use a blended chili powder that contains cumin, ground chillies, oregano etc, not pure ground chillies!
The dark chocolate gives the sauce a wonderful richness and depth of flavour.
Do not omit the sugar – it balances the acidity of the tomatoes.
You might also like: