There's a bit of a pizza obsession going on over here.
Ever since I moved away from Canada, I've been searching for a decent pizza. And when I say "decent", I mean fantastic!
Pizzas in London were OK, but honestly, sweetcorn?? No thanks!
And let's not even get into the soupy, flabby things most pizzerias serve here in France. Plus they think ham is a suitable topping on a vegetarian pizza! :o
On and off over the years I've experimented with making my own pizza, usually with dissatisfying results. From experiments with whole wheat dough, which to me just doesn't taste like pizza, to laborious cooking methods to get around my annoyingly slow oven, I've just never been able to make the pizza I really want.
But hey, it's only been 30 years…
The Pizza Game Changer
My pizza fortunes changed a couple years ago when I bought a pizza oven. My favourite appliance! Would it be absurd to say, a life-changing appliance? Perhaps. But I feel that way anyhow.
It heats up to 400°C, (double the temperature of your average oven) and cooks a pizza in a matter of minutes.
A FANTASTIC PIZZA!
Crispy on the outside, with a soft-chewy inner crust. A base so crisp you can hold up a slice and it does not droop. Toppings cooked just right, not the homogeneous, overcooked stuff I ended up with before, as I had to bake the pizza so long in my slow oven that the toppings all merged into one indefinable mass.
This was the true beginning of the obsession. Now, I can't get enough pizza.
It's so bloody good, I could eat it every day! And I probably would, if it were only up to me. Dang husband gets in the way. Wants to eat other stuff! Wha…?
I try to slip pizza on the menu, resorting to calling it "pie", every other day. But he's no dummy, and has learned of my devious nature when it comes to pizza. I probably average twice a week. Three times in a good week.
So I make a big batch of dough, and store it in the fridge, where its flavour improves with each passing day.
I can whip up a batch of dough in no time using my Kenwood Chef. Using a mixer means I'm not adding excess flour whilst kneading by hand, which maintains the hydration level of the dough. A good pizza dough is slightly sticky. This is the key to a crispy crust with a chewy interior and an open structure with pockets of air bubbles.
The recommended flour for making pizzas is the Italian "00" flour. It is more finely ground than regular flour, allowing it to absorb more water, and also has a higher gluten content to develop the bubbly, holey texture and the elasticity required to stretch the dough.
I like to use organic ingredients whenever I can, but organic pizza flour is not available where I live. So I have developed a pizza dough recipe using regular organic flour (known in France as T65), with the addition of a little organic gluten flour. Those couple tablespoons of gluten flour really improve the texture of the dough, making it much easier to stretch, and forming way more air bubbles in the cooked dough. Air bubbles are definitely desirable in a good pizza crust.
This pizza dough with added gluten flour has taken my pizza endeavours to a delicious new level.
Give it a go and let me know how you do!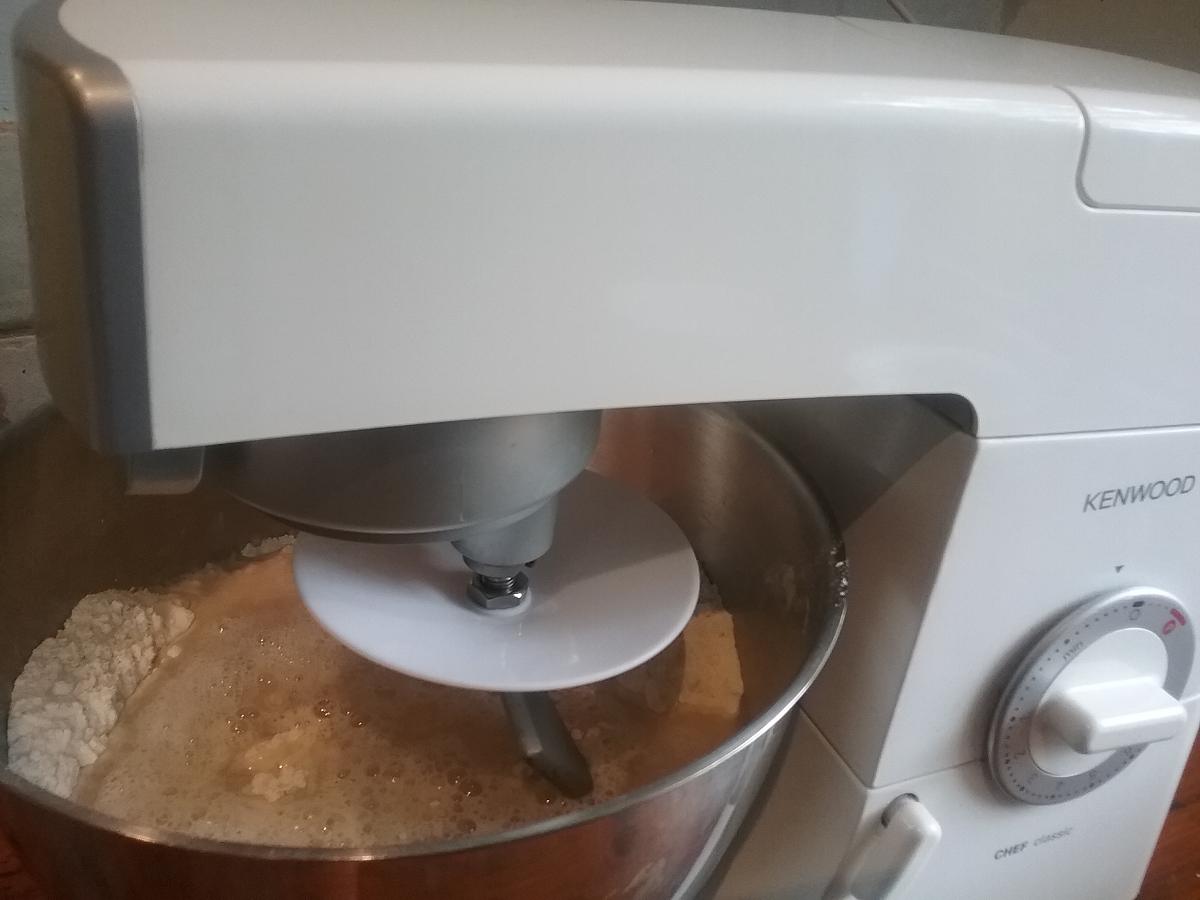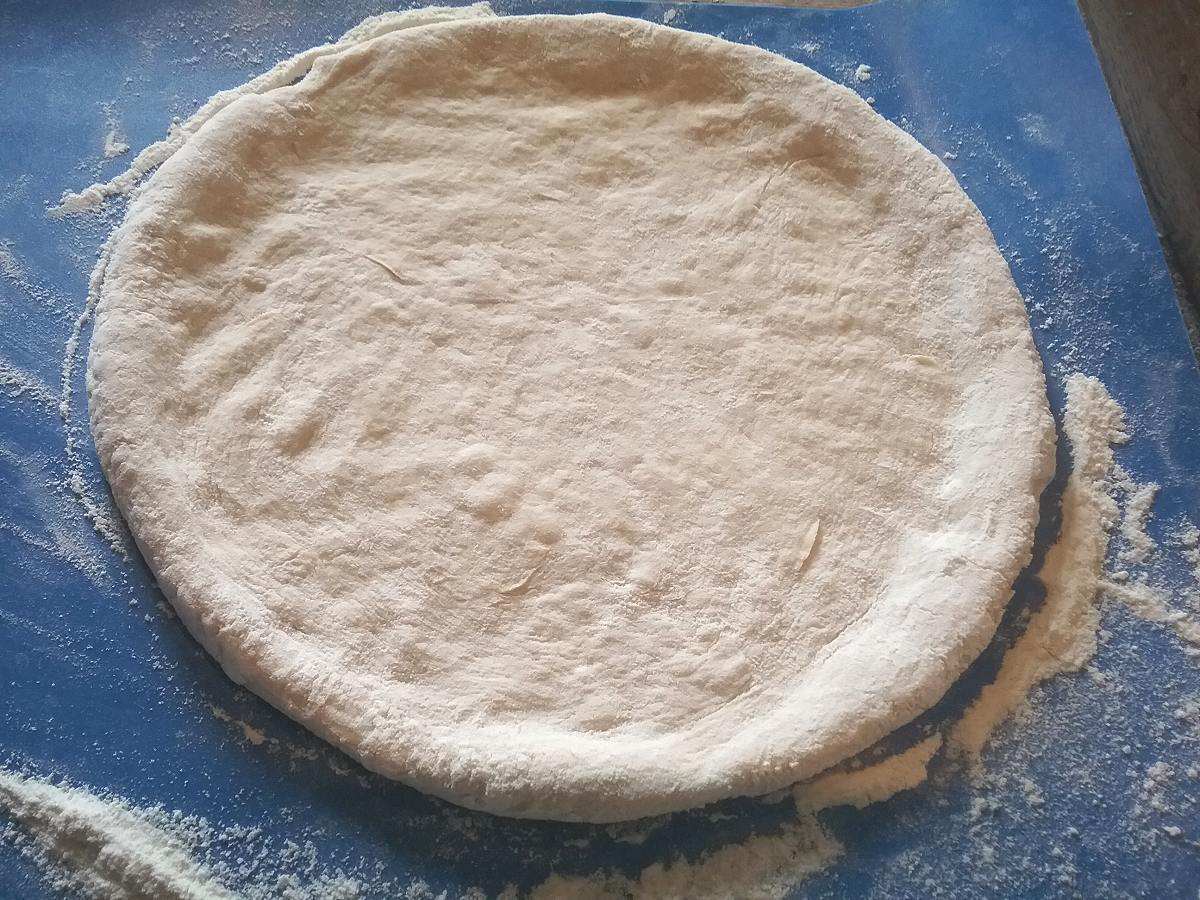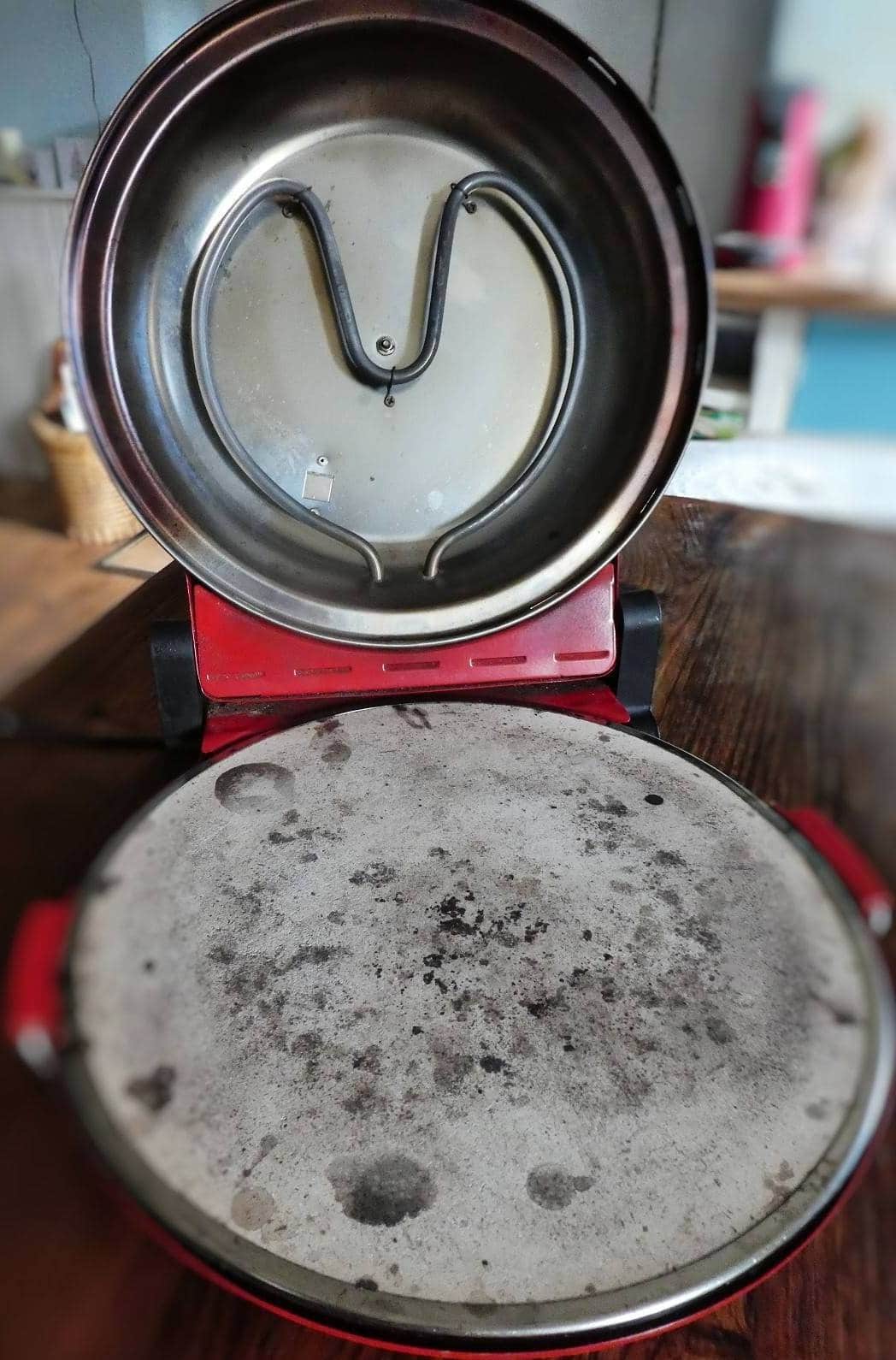 Print
Pizza Dough With Added Gluten Flour
---
Author:

Prep Time:

10 minutes + 1.5 hours proving

Total Time:

10 minutes + 1.5 hours proving

Yield:

For 5 or 6 12" pizzas
Description
Organic pizza flour is difficult to find. So I add organic gluten flour to organic all purpose flour to increase the protein content, and make it similar to the 00 flour recommended for pizza.
This makes a fairly wet, sticky, and malleable dough that will bubble up into a crispy crust on the outside, but still be soft and chewy on the inside.
See my No Cook Pizza Sauce recipe.
---
Ingredients
For the dough:
800 g all purpose flour
20 g gluten flour
2 sachets instant yeast, approx. 14 g
1 Tbsp sea salt
2 tsp sugar
600 ml hot water
Extras:
Olive oil for proving and storage
Cornmeal (polenta) and extra flour for kneading and stretching the dough
---
Instructions
Using a mixer:
Combine the dry ingredients in your mixer bowl.
Add hot water and knead with the dough hook on low speed for 6 minutes. I start my mixer on 1 and increase it to 2 once the ingredients are roughly mixed.
Scrape the bowl occasionally to ensure all the flour is incorporated.
Making by hand:
Combine the dry ingredients in a large bowl and make a well in the centre.
Add the hot water into the well, and stir with a wooden spoon or a fork to incorporate all the dry ingredients and to form a soft, sticky dough.
Turn the dough out onto a floured surface, and knead for 8-10 minutes until smooth, springy and elastic. Try to use as little extra flour as possible, as the dough should remain sticky to get that amazing crispy-chewy texture. Return to the bowl for proving stage.
Proving the dough # 1:
Drizzle a little olive oil over the surface of the dough and spread it to cover with a spatula or your fingers.
Cover the bowl with a plate or a clean damp tea towel, and place in a warm place to prove for about an hour.
When it has at least doubled in size you are good to go. You can now place it in an oiled container and put in the fridge for future reference, or scoop out a wodge and make a dang pizza!
If storing, spread some olive oil in the container, and swish and roll the dough in it so the upper surface has a coating.
Proving the dough # 2:
Prepare a floured plate, and a floured board.
Weigh out your desired dough quantity onto the floured plate. For a 12″ pizza, 280g will give a fairly thick crust, 250g a medium crust, and 210g – 230g a thin crust.
On the floured board, shape it into a nice smooth ball, rolling it around and pinching the edges underneath.
Re-flour the plate, place your lovely ball of dough on it, dust it with a little more flour and cover it with plastic wrap.
Prove a second time, about 30 minutes, until puffy.
Shaping the pizza crust:
Sprinkle some flour and cornmeal both on top of your ball of dough, and on the board.
Tip the dough onto the board and and with your fingers flat and together, press in the middle of the dough to start flattening it out, from the centre toward the outside. Try to push the air bubbles to the exterior, rather than just bursting them.
Continue pressing and pushing lightly to stretch the dough, bringing in your second hand when there is enough space, leaving a raised crust around the outside. Add more flour as needed to prevent the dough from sticking to your hands and the board.
If the dough seems resistant, leave it for a minute and come back to it, and it will have relaxed.
You can pick it up and flap it around between your palms, or toss it in the air with gay abandon, but pressing and pushing works for me.
Place the dough onto your pizza peel or dish, and add your toppings.
Cook the bugger! Enjoy!
Notes
You can use this dough straight away, after proving time. BUT… It's even better in a couple of days as the flavour develops. Try it and see for yourself. I have used this dough even 10 days after making.
If you have a mixer, use it. You can whip up a batch in no time, and the dough remains nice and sticky.
Using cornmeal (polenta) when you stretch the pizza makes it extra crispy and gives a nice flavour.
Make sure you use a big enough container to store the dough in. Even in the fridge it will rise up and lift the lid off of a plastic container, and ooze all over in a sticky mess.
For a 12″ pizza, 280g of dough will give a fairly thick crust, 250g a medium crust, and 210g – 230g a thin crust. Experiment!
You can freeze the dough in portions, but I get better results with fresh.
See also: