I am a sucker for cheese fondue.
I used to make it myself, but more often than not it went wrong, and I ended up with a congealed blob of cheese floating in hot wine. Not what you want when you've got friends over for dinner.
The Cheese Fondue Shortcut
Years ago I discovered a ready-made fondue. It's a chilled product that is usually placed with all the cheeses in the supermarket. You just heat it up for a perfect, reliable fondue, without the stress of wondering whether it will work.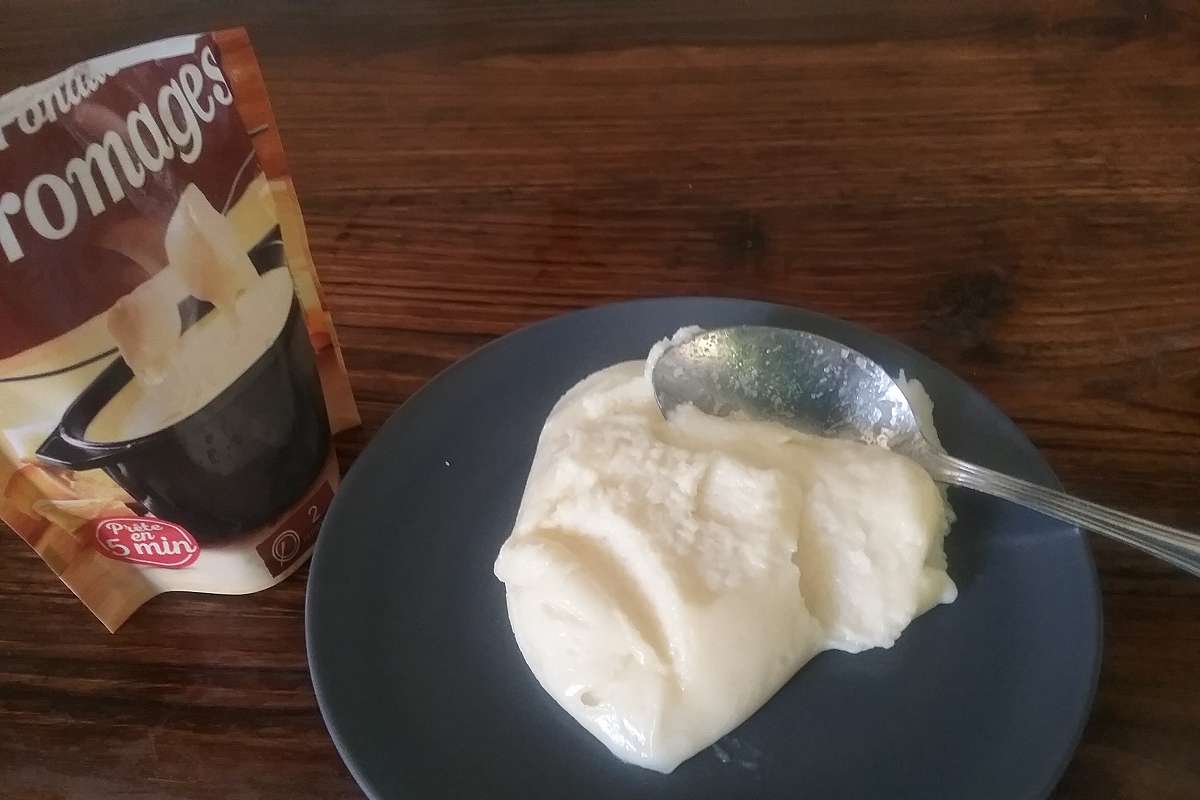 Although I generally advocate all things homemade, so I can control what goes in them, I make allowances for high value shortcuts, that save me time, and that give me the desired result when the homemade one is less certain.
What really makes the store bought cheese fondue a go-er for me, is that there are no ingredients in it that I would not use myself in a homemade fondue.
Nice, eh? It's an important criteria for me, to help me decide where I will be a slacker!
And guess what? Cheese fondue is fantastic on a pizza!
Pizza Glutton :o
In my quest to eat pizza as often as possible, I have had to devise various permutations of the basic pizza scenario, in order to get it past my husband, who for some weird reason, does not want to eat pizza every day.
So I bring in a bit of variety, and think of it more as a pie. I use my homemade pizza dough with added gluten flour, and make it a white pizza, with no tomato sauce.
I have great difficulty in not loading up a pizza to overflowing. In my cheese fondue pizza, I don't worry about that, and try to get in as much veg as possible. Afterall, it's a pie, right? ;)
Use whatever veggies you like as toppings. My favourite combo is courgette (that's zucchini to you North Americans) and mushroom under the cheese fondue, and cherry tomatoes and olives on top.
Have a look in the chilled section of your supermarket, and see if they sell cheese fondue. Trust me, it's one shortcut that really pays off.
Print
Cheese Fondue Pizza
---
Description
Use store bought cheese fondue to bring variety to your pizza repertoire.
---
Ingredients
Veggies of your choice: courgette, mushroom, onion, artichoke, tomato, olives, garlic, etc.
One pizza base – see Pizza Dough With Added Gluten Flour
Ready-made cheese fondue, about 150g for a 12″ pizza
---
Instructions
Top your stretched dough with the vegetables that need to cook the longest, and bake on high heat for a few minutes until the pizza is nearly ready.
Add the cheese fondue in blobs on top of the veggies, and then top with remaining quick-cooking veg like tomatoes and olives.
Cook for another couple of minutes until the cheese fondue is just melted.
Notes
I have kept the method fairly vague, as I use a dedicated pizza oven that cooks a pizza rapidly. Use your regular method, but definitely add the cheese after the main veggies are pretty much cooked.
See my recipe for Pizza Dough With Added Gluten Flour for an in depth method of making and stretching the dough.
You might also like: