Celeriac remoulade is a speciality salad of France. Sold in supermarkets and "traiteurs" (French delis) in a gloopy, mayo-y mass, it's so much nicer to make your own and lighten it up.
Celeriac is a knobbly root vegetable, ranging in size from an orange to a whopper of an iceberg lettuce. It's very popular here in France, yet fairly under-used elsewhere. With a delicious, delicately nutty celery flavour, it deserves more widespread recognition.
To prepare celeriac, slice off the thick skin and rooty bits, and place it in some cool water with lemon juice added to prevent it from discolouring.
I use it in chunks in soups and stews, mash it with potatoes if I'm feeling funky, and add it to rosti for a different take. My fave is to cut it into big chunks and to roast it with potatoes, squash, carrots and parsnips for an easy vegetarian Sunday roast, served with lots of veggie gravy.
It makes a fabulous smooth purée on its own, which all the top chefs are smearing across the plate with gay abandon.
I add carrots to my celeriac remoulade, as they go so well with celeriac and lift the anemic traditional recipe with a needed splash of colour.
I dress the veggies in a vegan cashew cream mayonnaise which is tangy and rich, yet way lighter and healthier than regular mayo.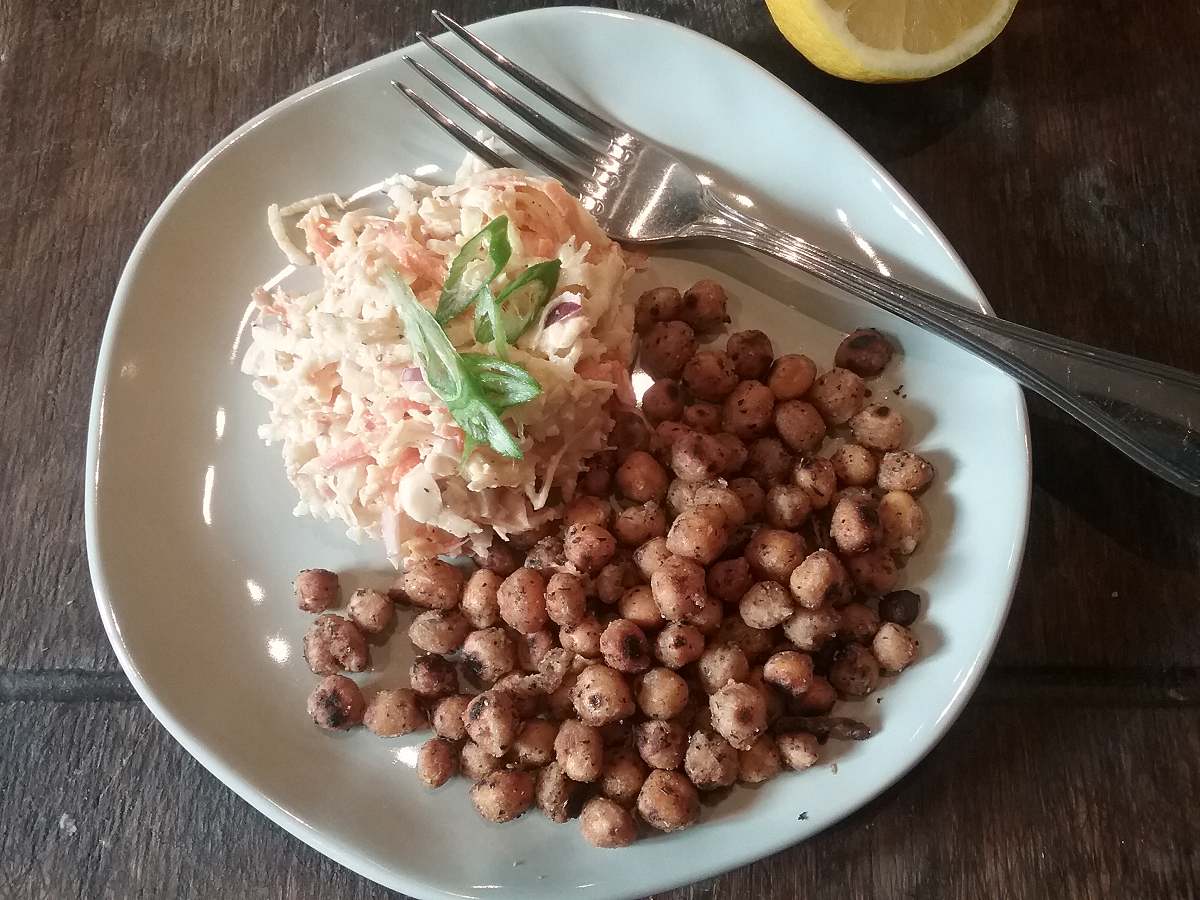 This is a favourite salad to serve with Crispy Herbed Chick Peas, baked potatoes or in place of chips *gasp* with a veggie burger.
So get out your grater or food processor, and let's go!
Print
Celeriac Remoulade
---
Author:

Prep Time:

20 minutes

Total Time:

20 minutes

Yield:

Serves 2 - 3
Ingredients
150g / 6 oz celeriac, peeled and grated (about 1 small celeriac)
50g / 2 oz carrot, peeled and grated (about 1 small carrot)
1 clove garlic, crushed
1/2 red onion, diced
6 Tbsp   cashew cream mayonnaise, approx. 1/2 recipe or to taste
salt and pepper
squeeze of lemon juice
---
Instructions
Combine all the ingredients in a bowl and mix well.
Serve immediately or refrigerate and use within 2 days. This salad is even better the next day.
You might also like: